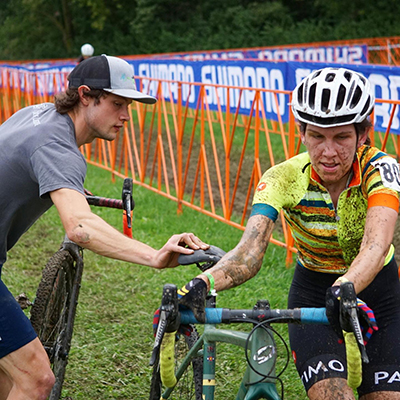 In 2014, I was serving as an AmeriCorps VISTA at a bicycle non-profit (the Reno Bike Project) in Reno, Nevada, coordinating a youth cycling program and the volunteer program. AmeriCorps VISTAs make almost no money, so I was incredibly poor and did not have a car. I bike raced all throughout college, but with limited funds and no vehicle, I couldn't afford racing as a VISTA. However, the local race series allowed me to race for free. I went to one of the local time trial races one August day, not knowing that race would change my life forever.
I did the race and was starting my cool down back to my friend's car. At the same time there was a man who was starting his cool-down too. I looked at him and recognized him as a local, strong racer, Michael (Mike). We had mutual friends who wanted to set us up on a date, but when the idea was floated by me, I had zero interest in being set up and Mike also didn't have any interest either. I let him pass by me on the road, since I knew he'd be faster. However, I noticed Mike slowed down to the point where I caught up to him again. He asked me if I worked at the Reno Bike Project and we started chit chatting. Once I reached my friend's car, we said goodbye.
A few weeks after that interaction, I ran into Mike at the race series awards dinner, so I sat next to him. We talked the whole time and I found out he was living in Truckee, the nearby mountain town I'd wanted to explore. However, the only way to get there was either by a back-country dirt road or Interstate 80, so he offered to drive to Reno one Saturday and pick me up to go ride in Truckee. A few weeks later, Mike picked me up on one of the few rainy days of the year. We rode together to the top of Donner Summit, then rode down the mountain in rainy, 40-degree weather. It was super cold and miserable, but I wasn't going to miss my chance to explore a new place by bike. After our ride, we walked around Truckee and Donner State Park. We talked the entire day and I felt like I'd known him my whole life, it was such an easy friendship.
After that day, we saw each other at more local races, and he came down to Reno on Halloween to do a corn maze with me. He even dressed up in costume! Later in the fall, Mike drove me to Sierraville, a tiny town in the Sierra Valley, where we rode through the valley and mountains in the area. Riding and talking with him was a highlight of my time in Reno and I felt I found a life-long friend. However, my AmeriCorps VISTA year was coming to an end, but I started to like Mike more than a friend. He felt the same way, and the day I left Reno we started dating. I knew there was something different about this relationship, so after moving away for a month, I moved back to Truckee to live with him and ride bikes together.
That was about 6.5 years ago. We're married now and we still ride bikes together. Mike coaches me now and has helped me become a stronger bike racer. Bicycling helped me gain my independence, given me my first job out of college, and has shaped me into the person I am today. But cycling has also brought me the love of my life. So always say hi or wave to folks you pass while riding a bike; you never know the impact they might have on your life.