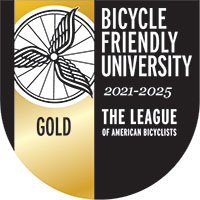 The League of American Bicyclists has awarded Indiana University Bloomington a Gold-level Bicycle Friendly University award, a move up from the Silver-level award received in 2017. The campus first became a bicycle friendly university in 2011.
The Bicycle Friendly University program includes 222 colleges and universities in 47 states and the District of Columbia and is part of the League's Bicycle Friendly America program, which also awards communities and businesses with certifications as part of its mission to make bicycling safe, comfortable, and more accessible for all.
Colleges and universities applying for the designation are reviewed holistically to determine an institution's work to promote the Five E's of bicycling – engineering, education, encouragement, evaluation, and equity.
"IU has worked hard to improve bicycling on campus for students, faculty, and staff, by encouraging them to think about bicycling not just for recreation, but also for transportation. Even though there's still more work to do, it feels good to celebrate this major milestone and to continue the work towards the next level – platinum," said Anna Dragovich, IU Bloomington's Transportation Demand Management Coordinator and Bicycle Manager.
This award comes after recent big bicycle-related news for the campus, including the opening of the Ballantine Bike Hub, a space for high security indoor bike parking, and the introduction of an e-bike courier at Document Services. Other community projects like the new Seventh Street protected bike lane that connects the campus to the B-Line trail also contribute to bike-friendliness on campus and in the surrounding community. The League awarded the City of Bloomington a gold level rating in 2018.
Investing in the comfort and safety of people bicycling supports other campus efforts like reducing our carbon emissions and air pollution, reducing traffic congestion, improving our physical health, and creating a social campus community. As IU Bloomington continues to improve its campus accessibility by bike, it will have access to a variety of free tools, a library of resources, and technical assistance from the League to become even more welcoming to people who bike.
Learn more about the League and its Bicycle Friendly University program.